• Our Garden Shop •
Our Garden Shop features unique gifts for gardeners and friends of gardeners. Most items have a gardening theme and many are one-of-a-kind. You will find books on gardening, tools, gloves, gazing balls, garden ornaments and even some artists' work. If you are looking for a truly unique gift to make someone smile, we have plenty of decorative home and unique garden art gifts to choose from.
You can also visit the garden shop for a variety of organic and earth friendly fertilizers and products designed to help make your garden as healthy as possible.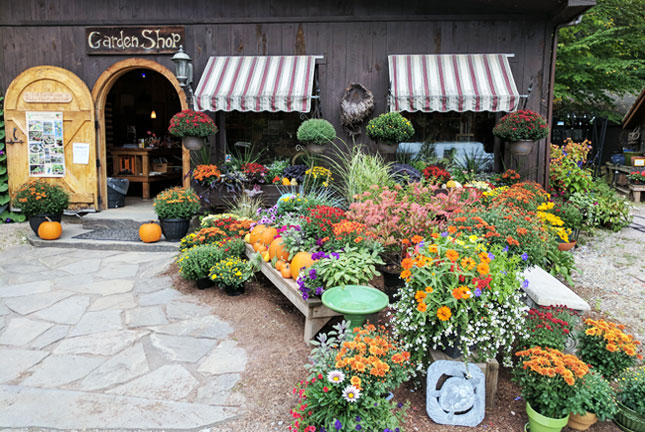 A Beautiful Garden — More Than Just Pretty Flowers
We believe that a beautiful garden has more to offer than just pretty flowers. It adds color and texture to your backyard as well as relaxation and enjoyment. It can also convey a sense of whimsy. One of the easiest ways to add a little character to your outdoor living space is to add the right garden accent pieces.
Imagine fairies, gnomes and other enchanting figures peeking out throughout your planting beds. Or how about adding stepping stones with subtle inspirational messages to your space. Consider decorative pots or wind chimes to bring personality and interest to small spaces.
No matter what you choose, we can help you create a beautiful garden with personality that helps define you and your outdoor living space.
Beeline Skin Care– it's all the buzz!
StoneFalls Gardens carries the complete line of Bee Line products: all natural body care products with the therapeutic benefits of beeswax and honey. Bee Line products are natural and gentle for sensitive skin, using earth friendly ingredients and packaged in environmentally friendly containers that are simple yet elegant.
A portion of the profits of bee line products are donated to the Honey Bee Research Fund.