• Display Gardens at Stonefalls Gardens •
One of the most impressive features of StoneFalls Gardens is our massive Display Gardens. The show of color and diverse nature of the beds makes our New Hampshire Garden Center a must-see destination for garden enthusiasts.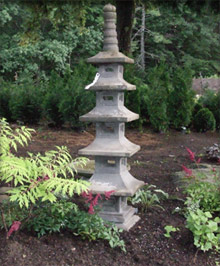 The largest bed runs 125 feet long and 50 feet wide. A rock wall marks the perimeter and bark mulch has been added throughout to give it a well-groomed look.
The Display Gardens even feature whiskey barrel displays and window boxes. In the full sun gardens, Rudbeckia Fulgida Goldstrum (Black-eyed Susan) always turns heads as do the Supertunia Petunias.
A shade garden, under a stand of hemlock trees, promotes a diversity of hostas, ferns and astilbe. Each year some plant material is rotated out and new varieties are featured. This rotation gives the beds a fresh look every year and keeps customers looking for what's new.

We invite you to stroll through our Display Gardens to get inspired and gather ideas for your own gardens.
See a Map of our Garden Center.