• Map of our Our NH Garden Center •
If you look closely at our map, you will see our Garden Shop and Pottery House on the left side with various Display Gardens behind them. In the center, of our map, you will notice our 4 greenhouses. Behind them you will find assorted perennials, trees and shrubs, as well as our bark mulch, loam and compost piles. Down front, you can see that we have plenty of parking space and more trees and shrubs. You will be able to enter and exit our Garden Center through Penny Lane.
Download PDF version of our Henniker, NH Garden Center Map.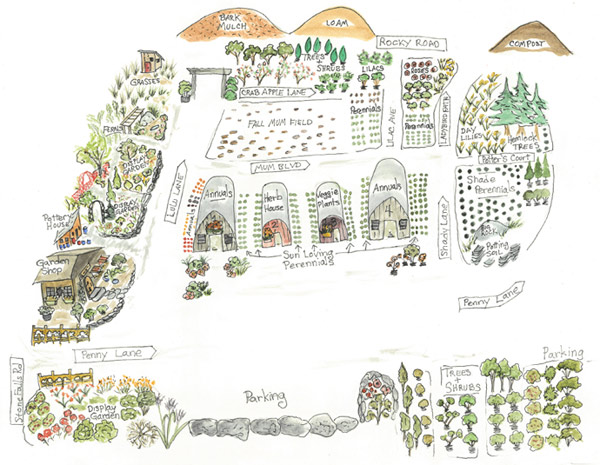 From the time we open in April with brightly colored pansies and right into the mum season in the fall, we make sure that our inventory is top of the line. We are forever watering, grooming and nurturing the hundreds of different plant varieties that we offer.
Directions
We're located 12 minutes west of Concord. Take I-89 to Exit 5, Route 202/9. Turn left at the second blinking light, and follow the signs!