• Trees, Shrubs, Evergreens & Vines •
StoneFalls Gardens has in stock over 1000 trees, shrubs, evergreens and vines hardy to our zone. If you are looking for larger specimens or something special, please let us know. We can order anything you desire!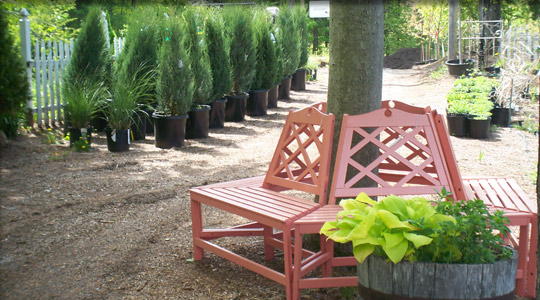 Below is just a sample of what we have available. If you are looking for larger caliper trees, contact us to place a special order. We have new inventory arriving regularly.
Trees (partial listing)
Acer (Maple)
Red Maple 'October Glory'
Sugar Maple
Japanese Maple
Betula (Birch)
Fraxinus Americana (Ash)
Hydrangea Paniculata
Magnolia
BEST SELLER! Malus Floribunda
(Flowering Crabapple)

Brandywine
Donald Wyman
Candymint
Profusion
Snowdrift
Robinson
Sargent
Sugar Tyme
Prunus (Ornamental Cherry)
Pyrus (Ornamental Pear)
Salix alba (Willow)
Fruit Trees: apple, peach and pear.
Inquire for stock availability
Evergreens
Juniperus (Juniper)
Picea (Spruce)
Pinus (Pine)
Taxus (Yew)
Thuja (Arborvitae)
Roses
Too numerous to list! Please visit or call for varieties and availability.
Shrubs
Azalea
Buxus (Boxwood)
Cornus (Dogwood)
Euonymus
Forsythia
Hamamelis virginiana (Witch Hazel)
Hydrangea
Ilex meserveae (Holly)
Rhododendron
Rhus (Sumac)
Salix (Pussy Willow)
Syringa (Lilac)

Vines
Aristolochia macrophylla (Dutchman's Pipe)
Boston Ivy
Clematis
Concord Grape
Climbing Hydrangea
Honeysuckle
Wisteria floribunda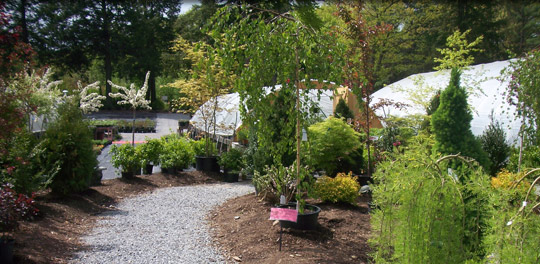 Call our Henniker, NH Nursery for sizes and pricing! 603-428-6161